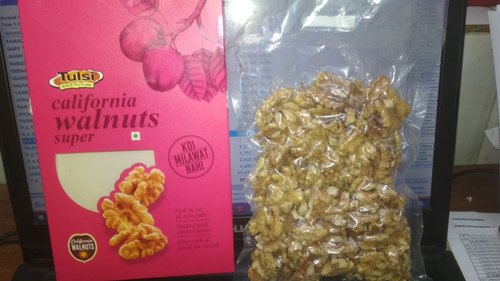 Walnut is considered a super-food due to its fantastic health benefits. Walnut is a unique source of omega 3 fatty acids and polyunsaturated fats. It is also a good source of protein that has high nutritional value excellent for heart health. The unique combination of protein, fiber, antioxidants, and healthy fat helps people maintain the body's metabolism. One can consume walnuts in different ways, such as snacks and chips.

Health Benefits of Walnut Kernels
-Due to its fantastic health benefits, Tulsi walnuts kernels can be used in various dishes such as kheer, cakes, milkshakes, smoothies, and phirni.

-Due to a significant amount of antioxidants, walnut is perfect for improving heart health and reducing cholesterol levels. Regular consumption of walnuts can reduce stress and inflammation.

-Walnut can be used for the weight management process. People with heavyweight can add walnut to their oatmeal. Apart from the weight management process, walnut is good for bone health because useful minerals such as manganese, copper, and calcium are present in the walnut.

Process of Making Export Quality Walnut Kernels
The harvesting process of walnut is unique. Many techniques are involved in walnut processing. After picking up the green walnut from the plant, harvesters remove the outer green with a huller. The nut is then washed and air-dried to an optimum moisture level. It can help to maintain the quality of the nuts during storage.

Shelled walnuts are graded by colour. Afterward, walnut kernels are screened and separated into various sizes. These processes are necessary to get the crunchy and delicious walnuts. Export quality walnuts have to pass through multiple testing processes to satisfy the customer's requirements. Tulsi walnut kernels suppliers supply export quality walnut.

How to Choose Good Quality Walnut?
Walnut, which is shelled, is easy to carry everywhere, but it may be damaged quickly without adequate maintenance. Try to choose the walnut that is pale and plump. Try to avoid discoloured or shrivelled walnut. If you find signs of mould in the walnut shell, do not buy this. Whole walnuts can be stored at room temperature, but shelled nuts should be refrigerated. If you store the walnuts in an air-tight container, it can last for a year.

Alternative Usage of Walnuts
Walnut can be used for preparing the various herbal remedy. Walnut husks can be used to prepare durable ink for drawing and writing. Some walnut husk can be used to prepare brown dye for fabrics. The black walnut tree is used to make high valued furniture.

Walnut extract can be used as cosmetic product preparation because the antioxidant properties of walnut work wonder on human skin. Walnut extract is useful for preparing shampoo, night cream, face scrub, body lotion, and hair oil. All cosmetics products that are made from tulsi walnut kernels are excellent for daily usage.

From the above information, one can understand the usefulness of choosing the right supplier for getting excellent quality walnut kernels. Buyers can verify the supplier's details on their official website before ordering walnut kernels in a vast quantity.