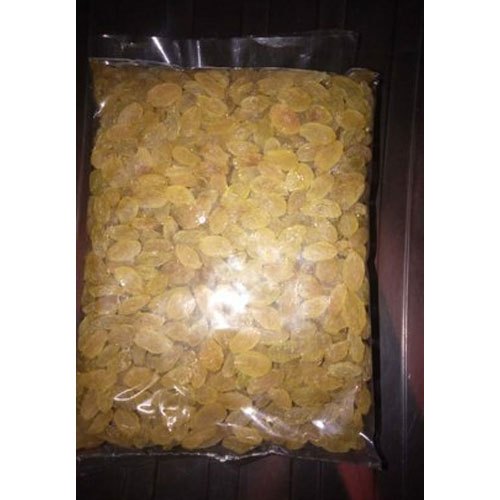 Looking to indulge your sweet tooth in healthy way? Go for golden raisins, a flavourful source of natural fruit sugar. Loaded with several essential nutrients, raisins make a quick and healthy snack to munch on between the meals.

How to include them in your daily diet?

Besides, eating golden raisins as a healthy snack, you can add them in many ways to your diet. The sweet-tart flavour and plump texture of this delicious raisin make them suitable for adding as toppings to cereals, pudding, yoghurt, pancakes and ice creams. You can also include them in baked items, granolas, salads to enhance the flavour.

Features:
Golden raisins are moisture, plumper and sweeter than regular raisins. Unlike regular raisins, golden raisins are not dried in sun. They are dehydrated in controlled temperature and treated with antioxidant sulphur dioxide to prevent its skin from darkening. Golden raisins are made from Thompson seedless grape.

Health advantages
When it comes to nutritional properties, golden and regular raisins are almost identical. Loaded with flavonoids, copper, potassium and vitamin B6, vitamin C, golden raisins have an incredible list of health benefits to offer.

• Packs with soluble fibers, it may improve digestion
• Rich in iron and vitamins which are essential for making red blood cell, it helps prevent anaemia.
• Being low in sodium, it is good for the heart and lowers the risk of cardiovascular ailments.
• Loaded with antioxidants, it may help prevent cancer
• It protects eyes from cataract and age-related macular degeneration
• It keeps the blood sugar level in control
• With a high content of magnesium and potassium, it is beneficial for acid reflux
• It promotes skin health and strengthens bones.
Offering the best quality range of golden raisins at cost-effective rates the suppliers in the country have garnered immense popularity across the global market. Their offered range of raisins is applauded for their freshness, natural sweet taste, plump texture and nutritional properties. Following are some of the important factors that the reliable suppliers of raisins always keep in mind to retain their dominance in the market.
• They offer an extensive range of high-quality golden raisins at the most competitive price.
• They procure the product from reputed vendors who dehydrate the raisins under controlled temperature in conformity with the industry set guidelines.
• They offer the products in travel-friendly, air-tight zipper packets making it easy for customers to carry them anywhere.
• The raisins are checked by a team of quality controllers on many pre-set parameters throughout the entire process of procurements and packaging.
• Backed by a strong team, great infrastructure and wide networks the suppliers are well equipped to suffice the bulk demand for raisins in the market.
• They always ensure on-time delivery and serve the clients' need with the best of our ability. On bulk order, they also give discounts.
• They always maintain transparency in all their transactions and direct all their activities to cater to the expectations of their customers.

Loaded with natural fruit sugar, energy and vitamins, raisins are undoubtedly one of the best healthy alternatives to satiate your sweet tooth.
This entry was posted on January, 18, 2021 at 12 : 49 pm and is filed under Golden Raisins. You can follow any responses to this entry through the RSS 2.0 feed. You can leave a response from your own site.